Dr. Ashish Jain, Best Orthopedic doctor in Lucknow and he received his orthopedic residency at Dr. Ram Manohar Lohia (RML) Hospital & PGIMER in New Delhi after graduating from the prestigious Armed Forces Medical College in Pune. Following a portion of his advanced training as a recipient of the IOA Synthes Fellowship at the highly regarded Ganga Hospital in Coimbatore, his experiences have been focused on gaining skill, experience, and the most recent knowledge in the field of Spine Surgery. Endoscopic spine surgery, minimally invasive spine surgery, and a variety of complex spine surgeries are all part of his training.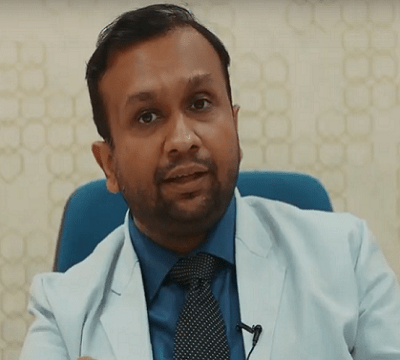 Fellowship In Spine Surgery
Indian Spinal Injuries Centre Delhi
St. Thomas & Guys Hospital London
Markgroningen Hospital Bw Germany
St Vincent Hospital South Korea
Helios Klinic Germany
Surgeries for a prolapsed intervertebral disc, interbody fusion procedures (TLIF,PLIF,ALIF), and Cervical Spine (including both anterior and posterior decompression, fusion & instrumentation)
Minimal access procedures – endoscopic and micro discectomy, vertebroplasty, kyphoplasty , Minimal access interbody fusion procedures like MIS-TLIF and DLIF
Correction of spinal deformity (congenital and idiopathic scoliosis) and spine trauma surgery
Advanced spine surgeries include correction of spinal deformities in the elderly, surgery for spinal infections, reconstruction of osteoporotic fractures, and occipito-cervical spine surgery.
Best Orthopedic Doctor In Lucknow : Back And Neck Clinic
He received the prestigious AO Spine Fellowship and has received training in London (Guys and St Thomas Hospital), Germany (OKM and Helios Klinik, Erfurt), and South Korea as a result ( Catholic University of Korea ). He also received a Medtronics India Fellowship and worked at the Indian Spinal Injury Centre, North India's leading spine institute. Following that, he worked as an Associate Spine Surgeon at Mumbai's Bombay Hospital & Medical Research Centre, a well-known Spine Surgery centre in India. He is also one of the few SRS Scoliosis Fellowship Program recipients, and he has visited the Schoen Klinik in Neustadt, Germany, where he worked with Prof. Henry Halms, widely regarded as the best in the field.
Get Relief from Joint Pain with the Best Orthopedic Doctor in Lucknow
Don't let joint pain hold you back. Visit the best orthopedic doctor in Lucknow for personalized treatment and relief. Book your appointment today!
If you're experiencing joint pain or discomfort, it's important to seek out the best orthopedic doctor in Lucknow for personalised treatment and relief. With the right care and attention, you can get back to your daily activities and enjoy a better quality of life. Book your appointment today to start your journey towards better health.
Understanding Joint Pain and Its Causes.
Joint pain can be caused by a variety of factors, including injury, arthritis, and overuse. It can affect any joint in the body, from the fingers and toes to the hips and knees. Understanding the cause of your joint pain is the first step towards finding the right treatment. A visit to the best orthopedic doctor in Lucknow can help you identify the cause of your joint pain and develop a personalized treatment plan to help you find relief.
Finding the Right Orthopedic Doctor.
When it comes to finding the right orthopedic doctor, it's important to do your research. Look for a doctor who specializes in treating the specific type of joint pain you are experiencing. Check their credentials and experience, and read reviews from other patients. A good orthopedic doctor will take the time to listen to your concerns, perform a thorough examination, and develop a treatment plan that is tailored to your individual needs. Don't let joint pain hold you back any longer – book an appointment with the best orthopedic doctor in Lucknow today.
Diagnosis and Treatment Options.
The best orthopedic doctor in Lucknow will provide a thorough diagnosis of your joint pain and offer a range of treatment options to help you find relief. Depending on the severity and cause of your joint pain, treatment options may include physical therapy, medication, injections, or surgery. Your doctor will work with you to develop a personalized treatment plan that addresses your specific needs and goals. With the right treatment, you can get back to doing the things you love without being held back by joint pain.
Rehabilitation and Recovery.
Rehabilitation and recovery are important aspects of treatment for joint pain. Your orthopedic doctor may recommend physical therapy to help you regain strength, flexibility, and range of motion in the affected joint. This may involve exercises, stretches, and other techniques to improve your mobility and reduce pain. In some cases, your doctor may also recommend lifestyle changes, such as weight loss or modifications to your daily activities, to help prevent further joint damage and improve your overall health. With the right rehabilitation and recovery plan, you can get back to your normal activities and enjoy a better quality of life.
Preventing Future Joint Pain.
While seeking treatment for current joint pain is important, it's also crucial to take steps to prevent future joint pain. This may include maintaining a healthy weight, staying active with low-impact exercises, and avoiding repetitive motions that can strain your joints. Your orthopedic doctor can provide personalized recommendations based on your specific needs and lifestyle. By taking proactive measures to protect your joints, you can reduce your risk of developing chronic joint pain and maintain your mobility and independence for years to come.